"Half-Off Sale for Homeschoolers" is the subject line
of the e-mail accompanying and sponsoring this newsletter.

Subscribe to this free e-mail newsletter at http://www.TeachingHome.com/SignUp.

Cindy Short and Sue Welch, editors
Table of Contents
Three-Part Series on The Basics: Reading
Teaching Your Child To Read
Pre-Reading Phonics Practice
Teaching Phonics Step-by-Step
Phonics Resources
Reading Comprehension
Recommended Resources
Academic Book Services
God's World Newspapers
The Teaching Home Back Issues
Noah's Ark Workshop
Janome Sewing Machines
New Vision Systems
Sunnyside Up: Humorous Anecdote
Greetings,
Have you taught your child to read? What a delight to watch
the lights go on and the world open up through the printed word!
That is the time many mothers feel they have passed the first
test and become home educators -- and they have.
If this exciting opportunity is still ahead of you, we trust
that you will find help and encouragement in this newsletter.
Take your time and enjoy teaching your child to read. It can be
a wonderful experience to share together!
If your child is in junior or senior high, you might be
surprised to learn that a review of phonics rules can help smooth
out some stumbling in his reading or improve his spelling. The
basics are always appropriate study material for any age.
May the Lord bless your family for His glory!
Cordially,
Pat, Sue, Heather, Holly, and Brian Welch
The Teaching Home is a 24-year-old, home-school family business.
Continue Receiving This Free E-Mail Newsletter
Whitelist us by putting the following information in your program:
* Our "From" address: Publisher@TeachingHome.com.
* Our sending IP address: 199.108.225.11.
* Our domain name: teachinghome.com.
____________________________________________________
Delivering Quality
Used Textbooks
A valuable source
in locating books to use
in developing coursework for home curriculum or purchasing
books for different grade/age levels to challenge pupils in
subject areas. Site created to be convenient for home
educators. http://www.absathome.com
____________________________________________________
Countdown to the Presidential Election
Only one week remains until the election! The outcome will
impact critical issues that will affect us, our children, and our
grandchildren.
1. Pray
"The effective, fervent prayer of a righteous man avails
much" (James 5:16).
* Pray for the election of a President who will honor and
follow the Lord and lead this nation in His way.
* Pray that Christians will vote according to the Lord's will.
* Pray that the election will be fair and free of fraud.
2. Vote
* Vote early if possible to avoid the possibility that something
could prevent you from voting on Nov. 2.
* Encourage others to vote; offer rides to the poles if that
would help.
"Select out of all the people able men who fear God, men of
truth, those who hate dishonest gain; and you shall place these
over them as leaders" (Exodus 18:21).
____________________________________________________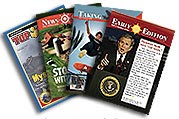 God's World News Is
a Welcome Complement
to Your Curriculum.
These weekly current events and activity newspapers use
today's news and discoveries to help you teach your children
to develop a Christian perspective on world events. Your
children will love the fascinating stories, colorful photos, and
engaging activities. http://www.gwnews.com/theteachinghome/
(Please use the special link above so that your order will be
credited to The Teaching Home's affiliate account. Thank you.)
____________________________________________________
Three-Part Series on The Basics
The three Rs (Reading, 'Riting, and 'Rithmetic) are basic
skills. They must be thoroughly mastered in order for children
to acquire, use, and communicate knowledge in other subjects.
These basics must also be constantly reviewed, and used, so
that they are retained.
You may want to go back to the basics to test mastery,
understanding, use, and speed by means of daily or weekly quizzes
or games.
You may also want to concentrate on the basics for a while:
* When your child is beginning his home schooling.
* When you are overwhelmed with too many subjects or family
emergencies.
* When your child has reached a roadblock and cannot seem to
progress further.
* When your child is ready to begin a new, higher-level subject.
Although the basics are the first steps in learning, they
are never outgrown -- they are the tools that our children need
to have honed and ready for all their future learning.
Reading
Reading is the passport to the world of knowledge and
understanding of the world. Reading and comprehension skills can
enable your child to learn in any subject area throughout his life.
Reading Methods
The methods used to teach children to read include whole
word (also called "sight reading" or "look-say") and intensive
phonics.
Whole word requires the child to memorize the shape of
the word, not the individual sounds of the letters. However,
a child cannot possibly memorize all the words he may
encounter.
Phonics teaches the sounds of the letters and certain groups
of letters. Phonics rules give the child tools to decode written
sounds of even new and unfamiliar words.
Intensive phonics will also help your child learn to spell.
Teaching a child to read is not as difficult as you may
think. You need only a few phonics resources, patience, and
enthusiasm.
Start with short lessons and gradually increase the length.
If your child becomes frustrated during a reading session, stop
on a positive note, rather than try to finish the lesson.
Reading Readiness
Reading readiness depends on the individual child. Most
children are able to master reading skills by age 6 or 7.
However, you need not delay reading instruction if your child
shows interest and ability sooner.
Likewise, you need not worry if your child takes longer
to learn to read. It is more important to establish a solid
foundation of reading skills than to push for early reading.
____________________________________________________
51 Back Issues of The
Teaching Home Magazine
Offered for Sale Online.

Full of information, inspiration, and support that never goes
out of date. These issues are relevant and applicable to your
needs today. http://theteachinghomen.goemerchant7.com
In each issue an average of 58 home schoolers contribute
practical how-to articles, encouraging letters, and ready-to-use
teaching tips.
____________________________________________________
Pre-Reading Phonics Practice
A well-developed phonics system will lead to early
success for almost every child within a few months.
However, to prevent hang-ups, slow-downs, or
mental/emotional blocks, make a low-key game of the
following pre-reading phonics exercises for months (or even
years) before you begin to teach reading. This will develop your
child's ability to hear and evaluate similar and different sounds
within words.
1. Initial, Middle, and Ending Sounds
Have your child think of words that begin with the same
sound. Say:
* "What words start the same as Daniel (or your child's
name)? How about door, dog, and dinner. Now you think
of some."
* Another day think of words that start like Mommy or
Sister, etc., until all sounds have been covered.
* Do the same for middle and ending sounds.
2. Word Pairs
Say word pairs and have your child tell you if they have
the same beginning, middle, or ending sound. Say:
"Do bat and ball begin the same?" (Yes)
"How about bat and cat?" (No)
"Do bat and foot end the same?" (Yes)
"How about bat and ball?" (No)
"Do hat and can have the same middle sound?" (Yes)
"How about bat and bit?" (No)
"Which parts of bat and bed are the same?" (Beginning)
"How about bat and can?" (Middle)
"How about hat and feet?" (End)
* Do not try all these questions at once or you will confuse
your child; practice each step until it is easy (using
many different examples on many separate occasions)
before moving on to the next.
3. Rhymes
Do rhyming games and riddles.
* Say "What rhymes with bat and cat?" (fat, hat, mat,
pat, rat, sat)
* Or "What is a food that rhymes with sneeze?" (cheese)
____________________________________________________
A Great Family
Business Opportunity!
Own your own traveling "Stuff-N-
Fluff" animal workshop where your
party guests choose an animal, stuff
it, dress it, take it home and love it.
Fun for the whole family. Call Annette at (800) 498-4316.
http://www.noahsarkworkshop.com (use crew member #34)
____________________________________________________
Teaching Phonics Step-by-Step
Teaching phonics is not hard. Instruction materials
can range from a simple manual to an extensive system
with cassettes, workbooks, games, phonetic readers, etc.
Or you can make up your own flashcards, word lists, and
practice sentences.
Any good phonics system should use the following steps
and teach all the letter-sound connections used in English
words. Eighty-seven percent of English words can be read
by "sounding them out" with the rules of phonics.
1. Consonants and Short Vowels
Teach letter/sound associations for consonants (/b/ in
boy, /c/ in cat, etc.) and for short vowels (/a/ in bat;
/e/ in bet; /i/ in bit; /o/ in hot; /u/ in hut).
2. Beginning Consonant and Short Vowel Blends
Practice reading initial-consonant plus short vowel
blends (/sa/ in sad, /me/ in men, /fi/ in fig, /ro/ in rod,
/nu/ in nut).
3. Add a Final Consonant
Create, read, and spell one-syllable words with short
vowels by adding a final consonant to each of the blends
learned in Step 2 (e.g., baa-t, bat; saa-d, sad; haa-t, hat).
An estimated 62 percent of the English language is made
up of short-vowel words and syllables; this gives immediate
success if practice words and sentences have been carefully
selected.
4. Long Vowels
When long-vowel words are added (e.g., /a/ in cake; /e/
in seed; /i/ in bike; /o/ in boat; /u/ in huge), two rules
generally apply:
* When there is one vowel in a short (one-syllable) word,
it usually says its short sound.
* When there are two vowels in a short word, the first
vowel usually says its long sound; the second one is silent
(e.g., same, meat, fine, road, rude).
5. Practice Reading and Spelling
Applying just the four steps above opens up a world of
reading vocabulary to your children. Provide sentences and
stories to give your child practice using the phonetic sounds
they are learning and to develop smoothness and speed.
6. Multiple-Syllable Words
Once a child is familiar with one-syllable words, then
words of more than one syllable can be introduced. The
easiest way to teach two-syllable words is to begin with
simple compound words like baseball and root words with
added suffixes like jump, jumping, jumped.
Many other two-syllable words can be read after you teach
that a vowel is usually long if followed by one consonant and
then another vowel (e.g., begin, open, silent) and that a vowel
is usually short if followed by two or more consonants before
the next vowel (e.g., children, kitchen, cupboard) unless the
first consonant after the vowel is followed by le (e.g., table,
maple, but not little, kettle).
7. Special Phonics Rules
Use word lists for spelling and reading that contain
phonics rules as they are learned. The following are a few
examples.
* Letter clusters: /ch/ in chin, chair; /or/ in for, order;
/sh/ in ship, shape; /ing/ in king, bring.
* Silent-letter words: comb, lamb, half.
* Special groupings of letters: night, bright, light;
laugh, cough, enough; could, would, should; through,
though.
* Silent-l words: chalk, talk, walk.
* Words using ank: bank, drank, sank, thank.
____________________________________________________
Buy One, Get One 1/2 Price
Sewing Speed
& Embroidery-Only
Kids Love the Advanced Sewing
and Easy Embroidery
Buy the high speed Memory Craft 6500 Professional sewing
machine and get the new embroidery-only Memory Craft 300E
for half price. That's a savings of $700. The MC6500P runs at
up to 1,000 stitches per minute with the largest arm and bed space
of any household machine. The MC300E does embroidery without
a bulky attachment. And it's so easy to use. Find out more:
http://www.janome.com/teaching-home-6500p-300e.html
____________________________________________________
Phonics Resources
Phonics Resources from Christian Publishers
We highly recommend the excellent Christ-centered
materials from these publishers.
A Beka Book
(Especially "A Handbook for Reading")
Alpha Omega Publications
(Horizons Curriculum)
Bob Jones University Press
Christ Centered Publications
A Home Start in Reading, 28-page booklet, by Ruth Beechick
Free Online Phonics Resources
Worksheets and sounds through Real Player.
http://www.tampareads.com/phonics/phonicsindex.htm
Saxon Publishers phonics K-2 activities.
http://www.saxonpublishers.com/activities/index.jsp
School Express worksheets.
http://www.schoolexpress.com/fws/cat.php?id=2254
____________________________________________________
Christian Home-Based Business. Part-time or full-time employment
available. Full support, fully financed opportunity. Call for free recorded
information: 1 (800) 469-7631. http://mvbyard.NewVisionSystems.net
____________________________________________________
Reading Comprehension
Reading comprehension is the process of connecting the words
that we read to thoughts that we think and is an important aspect
of the basic skill of reading.
Reading comprehension skills were dealt with extensively in
the following newsletters which are available online in our
newsletter archive.
Facts
http://www.teachinghome.com/newsletters/vol_2-no_23.cfm
Inferences
http://www.teachinghome.com/newsletters/vol_2-no_25.cfm
http://www.teachinghome.com/newsletters/vol_2-no_26.cfm
Analysis
http://www.teachinghome.com/newsletters/vol_2-no_28.cfm
Application
http://www.teachinghome.com/newsletters/vol_2-no_29.cfm
Evaluation
http://www.teachinghome.com/newsletters/vol_2-no_30.cfm
____________________________________________________
Please Thank and Support
Our Sponsoring Advertisers!
These free newsletters are made possible financially by
the fine suppliers who advertise in them and the accompanying
e-mail. Please consider those that advertised in our last issue
(below) as well as the ones in this issue.
The Jubilee Academy for K-12 Homeschoolers
http://www.TheJubileeAcademy.org
Christian Liberty Academy School System
http://www.homeschools.org
Moonjar Moneyboxes
http://www.moonjar.com
Speedy Spanish
http://www.speedy-spanish.com
Pattern Central
http://patterncentral.com
At Home Wellness
http://www.AtHomeWellness.com
God's World Weekly Current Events Newspapers
http://www.gwnews.com/theteachinghome/
____________________________________________________
Sunnyside Up: He Didn't Have a Clue!
Our family enjoys playing Password in which single word
clues to words are given. For "escort" I gave the clue
"accompany."
Robert's blurted response seemed obvious to him:
"A business!"
Submitted by William K. M., Oregon.
____________________________________________________
God Loves You.
Because we were separated from God by sin, Jesus Christ
died in our place, then rose to life again. If we trust Jesus Christ
as our Savior and Lord, He will give us eternal life.
"For by grace you have been saved through faith; and that
not of yourselves, it is the gift of God; not as a result of
works, that no one should boast" (Ephesians 2:8, 9).
http://www.TeachingHome.com/about/Salvation.cfm
____________________________________________________
To Unsubscribe. Please reply to this message and type
"Unsubscribe" in the subject line.
Change of E-Mail Address. Please send your name,
old e-mail address, and new e-mail address.
Sign up for a Free Newsletter Subscription at
http://www.TeachingHome.com/SignUp.
For Information on Advertising in this newsletter, see
http://www.TeachingHome.com/resources/howto.cfm.
Newsletter Archives.
http://www.TeachingHome.com/newsletters
E-Mail Newsletter Reprint Policy. This newsletter is
copyright 2004 by The Teaching Home. Permission is given to
forward or to print and distribute this e-mail in its entirety.
Individual articles from this E-Mail Newsletter may also be reprinted
unedited in their entirety. Please include "by Cindy Short and Sue
Welch" and print the following at the end of the article(s): "Copyright
2004 by The Teaching Home, www.TeachingHome.com. Reprinted
by permission."
Please Note: We do not give permission to post articles on a website.
Reprints from The Teaching Home Magazine. Fill out
a Request Form and note the reprint policies.
http://www.TeachingHome.com/groups/reprint_form.cfm