"The MorningStar Academy for K-12 Homeschoolers" is the subject line
of the e-mail accompanying and sponsoring this newsletter.

Invite your friends to subscribe to this free e-mail newsletter at
http://www.TeachingHome.com/SignUp.

Table of Contents
Presidential Election
1. Pray
2. Become Informed
3. "Get Out the Vote"
4. Presidential Election (Internet-Based) Unit Study
5. Election-Night Party
Recommended Resources
Money Camp Teacher Training Camp
Noah's Ark Animal Workshop
Grand Connect Adventure for Grandparents and Grandchildren
God's World News
The Teaching Home Back Issues
Sunnyside Up: Humorous Anecdote

Greetings,

In this issue we want to encourage you to pray, become
informed, and "get out the vote" for November's crucial presidential
election.
We as Christians can impact our society and nation if we all
make a concerted effort to cast informed votes guided by biblical
truths. We should also seek to influence others to do the same.
The election also provides a great opportunity for us as home
educators to teach our children lessons in Christian citizenship.
May the Lord bless your family for His glory!

Cordially,
Pat, Sue, Heather, Holly, and Brian Welch
The Teaching Home is a 24-year-old, home-school family business.

Continue Receiving This Free E-Mail Newsletter
Whitelist us by putting the following information in your program:
* Our "From" address: Publisher@TeachingHome.com.
* Our sending IP address: 199.108.225.11.
* Our domain name: teachinghome.com.
____________________________________________________
Money Camp Teacher Training Camp
Oct. 14-16, Santa Barbara, Calif.
The Money Camp is a unique Financial Literacy Curriculum and
Financial Playbook that can be used in any school or community
setting for kids ages 10 and up. Attend our 3-day Teacher
Training; become the Certified Money Camp Coach in your area!
$295 (ask us about our teacher's discount).
Curriculum and Playbook are also available for purchase.
Call 805-957-1024 or visit http://www.themoneycamp.com.
____________________________________________________
The Presidential Election
Pray
The primary method of effecting political change is through
prayer.
"I exhort therefore, first of all, that supplications,
prayers, intercessions, thanksgivings, be made for all men; for
kings and all that are in high places; that we may lead a
tranquil and quiet life in all godliness and gravity. This is
good and acceptable in the sight of God our Savior; who would
have all men to be saved, and come to the knowledge of the truth"
(1 Timothy 2:1-4).
1. Pray Concerning the Upcoming Election
* Pray for the election of a President who will honor and follow
the Lord and lead this nation in His way.
* Pray that godly men will be elected in all levels of
government.
* Pray that Christians will register and vote according to the
Lord's will.
* Pray that the election will be fair and free of fraud.
2. Pray for Revival Among Christians
"If My people, who are called by My name, shall humble
themselves, and pray, and seek My face, and turn from their
wicked ways; then will I hear from heaven, and will forgive their
sin, and will heal their land" (2 Chronicles 7:14).
____________________________________________________
A Great Family
Business Opportunity!
Own your own traveling "Stuff-N-
Fluff" animal workshop where your
party guests choose an animal, stuff
it, dress it, take it home and love it.
Fun for the whole family. Call Annette at (800) 498-4316.
http://www.noahsarkworkshop.com (use crew member #34)
____________________________________________________
The Presidential Election
Become Informed
Issues
Research issues facing our nation today, gathering facts and
analyzing solutions in light of Scripture, from sources such as
http://www.family.org/cforum/fosi and
http://www.christiananswers.net/menu-ag1.html.
CitizenLink e-mail newsletter.
http://www.family.org/cforum/clinksignup.cfm
Candidates
Research information on political candidates and their
voting records.
http://www.senate.gov/reference/common/faq/how_to_votes.htm
Eagle Forum Scoreboard
http://www.eagleforum.org/Scoreboard/108-1/index.html
Presidential Candidates' Positions on Abortion
http://www.wallbuilders.com/resources/misc/NRLCCompare.pdf
Family Research Council's Voting Records.
http://www.frc.org/context.cfm?c=VOTING_LEG
Platforms
* Compare the Democrat and Republican Platforms on four
Biblical issues.
http://www.wallbuilders.com/resources/misc/Platforms.pdf
* Links to all political parties. Directory of third parties.
http://www.govspot.com/categories/politicalparties.htm
* Platform comparisons.
http://www.lp.org/issues/platform/compare/
Homeschoolers for Bush '04 Unit Study
"Our goal: to help President George W. Bush get re-elected.
Our process: to learn about America's government while
participating in campaign activities."
http://www.hs4bush.net
____________________________________________________
Life Stories (History), Letters (Writing & Reading), Legacy Keepsake.
Year-long adventure for grandparents and grandchildren to share
includes monthly topics, stationery. http://www.GrandConnect.com
____________________________________________________
The Presidential Election
"Get Out the Vote"
1. Why Christians Should Vote
Voting is the process designed by our Constitution whereby
our government is directed by us, "the people." It is a
privilege and a responsibility of every citizen to participate in
our government on all levels and to take part in the direction
our nation is going.
Millions of Christians do not register to vote, and millions
more are registered, but do not vote. We face critical issues in
our nation today, and we must all do our part in choosing our
leaders. The future of our children and grandchildren is at stake.
"Select out of all the people able men who fear God, men of
truth, those who hate dishonest gain; and you shall place these
over them as leaders" (Exodus 18:21).
2. Register Your Family and Others To Vote
* Be sure you are registered to vote, especially after a change
of address.
* Help your children register to vote as soon as they turn 18
or if they will be 18 on the next election day.
* Encourage and help friends, support group or church members,
and neighbors to register and vote.
* Register Online To Vote
http://www.onlinedemocracy.com/vote/index.cfm
Voter registration is still open until the dates shown only in
the following states:
Oct. 10 - ID, NC, NY, & OK
Oct. 12 - MD, NV, & OR
Oct. 13 - DE, MA, UT, & WV
Oct. 15 - NE
Oct. 18 - CA, KS, & SD
Oct. 19 - CT
Oct. 22 - AL
Oct. 23 - IA & NH
Oct. 25 - VT
3. Encourage Others To Be Informed Voters
* Help distribute Christian voting guides if they are available
in your area.
* Help rally one million Christian voters who will pray and
vote to change our nation this year!
http://www.christianvotes.com
http://www.family.org/cforum/extras/a0031224.cfm
* Visit a campaign headquarters and see what jobs are
available to do, such as distributing campaign literature
and yard signs or registering people to vote.
____________________________________________________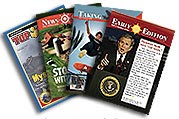 God's World News Is
a Welcome Complement
to Your Curriculum.
These weekly current events and activity newspapers use
today's news and discoveries to help you teach your children
to develop a Christian perspective on world events. Your
children will love the fascinating stories, colorful photos, and
engaging activities. http://www.gwnews.com/theteachinghome/
(Please use the special link above so that your order will be
credited to The Teaching Home's affiliate account. Thank you.)
____________________________________________________
Presidential Election (Internet-Based) Unit Study
Don't miss the opportunity to teach your children about our
presidential election process during the upcoming election.
In this issue we offer a short unit study on the
presidential election, excerpted from our 5-part series on
government and the presidential election. You can do all or part
of the 5-part series, or do the shorter version suggested in this issue.
The November election is not your "deadline" for these studies.
There may be new or sustained interest after the election to motivate
learning as well.
5-Part Series on Government and the Presidential Election
#66 - Government: Introduction; Biblical Basis; Different Forms
http://www.teachinghome.com/newsletters/vol_2-no_66.cfm
#67 - Government: United States
http://www.teachinghome.com/newsletters/vol_2-no_67.cfm
#68 - Government: Our Responsibilities
http://www.teachinghome.com/newsletters/vol_2-no_68.cfm
#69 - Presidential Election (Internet-Based) Unit Study, Part 1
http://www.teachinghome.com/newsletters/vol_2-no_69.cfm
#70 - Presidential Election (Internet-Based) Unit Study, Part 2
http://www.teachinghome.com/newsletters/vol_2-no_70.cfm
Record Keeping
Keep a notebook or scrapbook.
* Include notes, compositions, charts, maps, illustrations, and other
projects from your unit study.
* Take photos of items that are too large to put in your book.
* Include memorabilia such as bumper stickers and buttons.
* Keep newspaper clippings from turning yellow and disintegrating
by copying on acid-free paper or treat with a special recipe.
Read more at http://GenealogyForumClip.notlong.com.
Spiritual
1. Bible Study
Find out what God says about government by using your
concordance and/or the verses and principles in newsletters #66
and #68 (see above) such as Psalm 22:28, Romans 13:1-7,
I Peter 2:13-14, Daniel 4:17, Proverbs 21:1, Daniel 2:21,
I Timothy 2:1-4, 2 Chronicles 7:14, Matthew 22:17- 21, and
Acts 5:29.
Study the biblical basis for human government and the
spiritual aspect of political action and our Christian heritage
in newsletters #66 and #67 (see above).
2. Memory Verse(s)
Select a passage to memorize from those you study above.
3. Prayer for Our Leaders, Elections, and Issues
Make a special prayer calendar to use until the election or
add these items to your weekly prayer list (see newsletter #68
and section on prayer above.)
4. Read and discuss biblical articles on government and politics.
http://www.christiananswers.net/menu-ag1.html
"How You Can Have Maximum Patriotic Impact" (Matt. 22:15-21)
http://iVoteValues.notlong.com
Information on national issues (see "Become Informed" above).
Read about the Office of the President
1. Read about the president, his powers, and responsibilities.
http://www.whitehouse.gov
http://7Roles.notlong.com
http://Powers.notlong.com
2. Read about the duties and qualifications of the president in
the Constitution of the United States, Article II and
in Amendments 20, 22, and 25 to the U.S. Constitution.
http://USConstitution.notlong.com
3. Read "Does character matter in political leaders?"
http://www.christiananswers.net/q-wall/wal-g008.html
Art
Design and/or create campaign materials for a real or
ideal candidate including reasons to vote for him.
Make banners, slogans, brochures, posters, lawn signs,
bumper stickers, ads for radio, television, and newspapers.
Study the Presidential Election Process.
* U.S. presidential election from Wikipedia free encyclopedia.
http://en.wikipedia.org/wiki/U.S._presidential_election,_2004
http://www.electoral-vote.com/
* An overview of the U.S. Government and the political system.
http://usinfo.state.gov/usa/infousa/politics/politics.htm
* Presidential election process in simplified terms.
http://www.govspot.com/election/electionprocess.htm
* Dave Leip's Atlas of U.S. Presidential Elections.
http://uselectionatlas.org
* Ben's Guide. (Follow arrows at bottom of page.)
http://bensguide.gpo.gov/9-12/election/primary.html
Electoral College / Math
Study the much misunderstood reasons for our Electoral College.
* U. S. Electoral College.
http://www.archives.gov/federal_register/electoral_college
* In Defense of the Electoral College.
http://www.cato.org/dailys/11-10-00.html
* Danger of direct elections.
http://www.avagara.com/e_c/ec_directdanger.htm
* Mathematical explanation of why we need the Electoral College.
http://www.avagara.com/e_c/reference/00012001.htm
Written and/or Oral Reports
1. Choose a topic, such as:
* The presidential office and duties.
* A brief biography and qualifications of a candidate.
* Convince your audience to vote and/or to vote for a certain
candidate.
* Your idea of the perfect candidate and his platform.
* The presidential election process.
* Explanation of the Electoral College and your opinion of it.
* National issues.
2. Choose a presentation method:
* Written report, with or without visual aids.
* Oral report or speech for your family or group, with or
without visual aids.
* E-mail your report (with links) to your friends.
* Tape your presentation (audio or video) and send to
friends or family that do not live near you.
Debates and Speeches
1. Watch candidates' speeches or presidential debates
(October 8 and 13, both at 9:00 p.m. ET) and the commentary
that follows. Then critique the content and presentation of each
speaker.
2. Read "Short List of Fallacies."
http://ChristianLogic.notlong.com
3. Learn more about presidential debates.
http://www.debates.org
4. Create, perform, and record (audio or video) a radio or TV
ad, campaigning for the candidate of your choice.
Geography
Draw or obtain a map and label each state with its two-letter
ZIP code and the number of its Electoral College votes.
See map filled out and answer questions.
http://ElectoralMap.notlong.com
Vocabulary, Spelling, Penmanship, and Typing
1. Start with a short list of key words related to the
presidential election and add new or significant words as
you encounter them.
* Glossary for vocabulary words.
http://bensguide.gpo.gov/9-12/glossary.html
http://www.pbs.org/elections/glossary/index.html
* The following link includes summaries of the Constitution.
http://www.congresslink.org/print_teaching_glossary.htm
2. Verbally test your students by asking them to spell and
define the words and use them in sentences.
3. Do some online vocabulary activities.
http://www.statefarm.com/kidstuf/pc1.htm
http://www.statefarm.com/kidstuf/pwsearch.htm
http://WordSearch.notlong.com
http://teachnology.notlong.com
Participation in the Political Process
1. Study our responsibilities as citizens (see newsletter #68 above).
2. Find out directly from our Constitution who can vote
(Amendments 14, 15, 19, 23, 24, 26).
http://USConstitution.notlong.com
3. See suggestions in "Get Out the Vote" (above).
____________________________________________________
51 Back Issues of The
Teaching Home Magazine
Offered for Sale Online.

Full of information, inspiration, and support that never goes
out of date. These issues are relevant and applicable to your
needs today. http://theteachinghomen.goemerchant7.com
In each issue an average of 58 home schoolers contribute
practical how-to articles, encouraging letters, and ready-to-use
teaching tips.
____________________________________________________
Election-Night Party
1. Start with Prayer
* Start your evening early with a time of prayer that Christians
will vote and that the Lord's will would be done.
* Since many or most votes may already be cast by evening,
ask those you know to pray hourly from the opening of the
eastern polls to the closing of the western ones.
* See poll closing times (Tuesday, 6:00 p.m. EST -
Wednesday, 1:00 a.m. EST) at
http://www.thegreenpapers.com/G04/closing.phtml?format=mc.
* Pray for a clear and accurate vote count.
2. Enjoy Fellowship and Sharing
* Arrange a potluck dinner.
* Display presidential election unit study projects and/or
listen to presentations.
3. Follow the Election Returns
* Watch the election night results together on TV.
* Keep track of the Electoral College votes on a list, first in
pencil as projected and then in ink as confirmed.
* Or use an online Electoral College calculator.
http://Calculator.notlong.com
Important Note
Prepare your child for disappointment if his choice of
candidate does not win. Make sure your child understands
that God is still in control.
"The Most High is ruler over the realm of mankind, and
bestows it on whom He wishes and sets over it the lowliest
of men." (Daniel 4:17)
____________________________________________________
Please Thank and Support
Our Sponsoring Advertisers!
These free newsletters are made possible financially by
the fine suppliers who advertise in them and the accompanying
e-mail. Please consider those that advertised in our last issue
(below) as well as the ones in this issue.
Craftsman/NSTA Young Inventors Awards Program
http://www.nsta.org/programs/craftsman
SCI-TECH Project Kits
http://www.scitechmst.com
Janome Sewing Machines
http://www.janome.com/teaching-home-fall-04-jem-ad.html
AIU Degree Programs
http://www.aiuonline.edu/aiucombo/?code=1905
Quiet Places
800-498-4316. QP4U@myfamily.com
God's World Weekly Current Events Newspapers
http://www.gwnews.com/theteachinghome/
____________________________________________________
Sunnyside Up: Color-Coded Election Results
Since this is election year, once again I find myself
watching the polls very closely and praying about the outcome.
In the year 2000 I was glued to the television set when
George W. Bush and Al Gore were running against one another.
On our TV news reports, areas projected to vote Republican were
shown in red and Democrat in blue. We have three sons, and our
youngest son, Micah, was 4 at the time. Every now and then he
would pass by and catch me saying "Hurray! We are pulling ahead."
That year we took all three boys with us to vote, and they knew
we were pulling for George W. Bush.
There was a really bad storm the night of the election in
our town, and the meteorologists were putting weather bulletins on
the screen. Later, Micah came in and glanced at the screen. The
weather radar was showing a storm in our area. After seeing the
dark red spot about where we live, he jumped up and down and
said, "Hurray! We're ahead."
Submitted by Teresa D., Arkansas
____________________________________________________
God Loves You.
Because we were separated from God by sin, Jesus Christ
died in our place, then rose to life again. If we trust Jesus Christ
as our Savior and Lord, He will give us eternal life.
"For by grace you have been saved through faith; and that
not of yourselves, it is the gift of God; not as a result of
works, that no one should boast" (Ephesians 2:8, 9).
http://www.TeachingHome.com/about/Salvation.cfm
____________________________________________________
To Unsubscribe. Please reply to this message and type
"Unsubscribe" in the subject line.
Change of E-Mail Address. Please send your name,
old e-mail address, and new e-mail address.
Sign up for a Free Newsletter Subscription at
http://www.TeachingHome.com/SignUp.
For Information on Advertising in this newsletter, see
http://www.TeachingHome.com/resources/howto.cfm.
Newsletter Archives.
http://www.TeachingHome.com/newsletters
E-Mail Newsletter Reprint Policy. This newsletter is
copyright 2004 by The Teaching Home. Permission is given to
forward or to print and distribute this e-mail in its entirety.
Individual articles from this E-Mail Newsletter may also be reprinted
unedited in their entirety. Please include "by Cindy Short and Sue
Welch" and print the following at the end of the article(s): "Copyright
2004 by The Teaching Home, www.TeachingHome.com. Reprinted
by permission."
Please Note: We do not give permission to post articles on a website.
Reprints from The Teaching Home Magazine. Fill out
a Request Form and note the reprint policies.
http://www.TeachingHome.com/groups/reprint_form.cfm