"Craftsman/NSTA Young Inventors Awards Program" is the subject line
of the e-mail accompanying and sponsoring this newsletter.

Invite your friends to subscribe to this free e-mail newsletter at
http://www.TeachingHome.com/SignUp.

Table of Contents
15 Ways To Motivate Your Child To Learn, Part 2
8. Get Your Child Involved
9. Know and Use Your Child's Interests
10. Provide Variety
11. Be a Good Example
12. Maintain a Positive Relationship
13. Employ Accountability
14. Utilize Teamwork
15. Make Careful Use of Competition
Go to the Lord for Help
Recommended Resources
SCI-TECH Project Kits
AIU Degree Programs
Janome Sewing Machines
Quiet Places
The Teaching Home Back Issues
God's World News
Sunnyside Up: Humorous Anecdote

Greetings,

In our last issue we discussed how motivation is the wind in
the sails that carries your child along in his learning, how with
motivation, he will learn, understand, and retain more, and how
he will also do it willingly and easily.
In this issue we continue to offer practical suggestions that you
can use to develop and harness the potential of motivation.
May the Lord bless your family for His glory!

Cordially,
Pat, Sue, Heather, Holly, and Brian Welch
The Teaching Home is a 24-year-old, home-school family business.

Continue Receiving This Free E-Mail Newsletter
Whitelist us by putting the following information in your program:
* Our "From" address: Publisher@TeachingHome.com.
* Our sending IP address: 199.108.225.11.
* Our domain name: teachinghome.com.
____________________________________________________
SCI-TECH
Math, Science & Technology
Hands-On Project Kits. Grades 1-12.
Learn scientific concepts while constructing
a working project! Rockets, boats, cars,
catapult, roller coaster, airplanes, pinball machines and more!
Call today and learn about our special Home School starter
kit which includes three project kits and matching curriculum.
845-216-9418 http://www.scitechmst.com
____________________________________________________
15 Ways To Motivate Your Child To Learn
by Cindy Short and Sue Welch, editors
15 Ways To Motivate Your Child To Learn, Part 1
http://www.teachinghome.com/newsletters/vol_2-no_93.cfm
1. Appeal to Spiritual Motives
2. Clearly Define Goals
3. Reveal the Purpose of the Study
4. Set the Stage
5. Enable and Recognize Success
6. Capitalize on Learning Styles
7. Give Incentives
15 Ways To Motivate Your Child To Learn, Part 2
Eight more strategies for motivating your children to learn,
to give their best performance, and to achieve their potential.
8. Get Your Child Involved
People are more motivated when they make an active
contribution to an effort. Have your children:
* Tell you how class sessions could be made more interesting.
* Teach all, or part, of a class to his siblings -- or to you.
* Ask thoughtful questions.
* Suggest related topics or projects.
* Help decide what to do and the best way to do it.
* Help you by finding a resource, such as a related book or
video, or by doing some research.
Offer Choices
Most of a child's learning needs to be determined by his
parents, but there are some instances where you could offer your
child a choice. This could be as simple as allowing students to
choose one of several options that you give him for:
* A topic for a paper.
* Activities or projects.
* Writing an extra paper or taking the final exam.
Setting Goals
Your child will take more personal ownership for his
education as he learns how to set and achieve goals for himself.
He will then embrace your efforts to help him succeed.
Include your child and his ideas as you draw up or revise
your family mission statement and yearly goals. See
http://www.teachinghome.com/newsletters/vol_2-no_80.cfm
http://www.teachinghome.com/newsletters/vol_2-no_81.cfm
____________________________________________________

Accelerated Associate's, Bachelor's,
and Master's Degree Programs
* Study online at your convenience anytime 24 hours a day.
* Learn from outstanding multimedia coursework and professors.
* Access our world-class reference Cybrary.
American InterContinental University has been educating students
for over 30 years. http://www.aiuonline.edu/aiucombo/?code=1905
____________________________________________________
9. Know and Use Your Child's Interests
All children have interests of some sort; you might be aware
of some or all of them. Take time to sit and visit one-on-one
with each child and find out what his interests and aspirations are.
Show that you care about your child by asking about his
concerns and goals. What would he like to do in the future?
What things does he like?
If your child has not yet developed any strong or specific
interests of his own, you can help him find some. (See "Develop
New Interests" below.)
A. How To Use Your Child's Interests
Create or Use Unit Studies
You can use your child's interest as the theme of a unit
study that connects all subjects.
For example, your son likes cars.
* History. Study the history of the automobile's invention and
its impact on society in the areas of economics, agriculture,
industry, population, distribution, etc.
* Science. Study the scientific principles behind the engine,
brakes, transmission, etc.
* Reading. Read literature with car themes.
* Math. Use word problems that deal with distance, rate, and
time of road trips; spark plug gaps, etc.
* Writing. Write essays, poems, reports, even ads about cars.
* Thinking skills. Compare cars from different makers or dates,
and compare automobiles with other forms of transportation.
If your daughter loves horses (or at least the idea of
horses!), do a similar study on horses.
Extend Interests
Your unit study does not need to stay focused exclusively on
cars to benefit from the motivation of your child's interest; you
should extent your study into related areas.
For example, broaden your study to include other forms of
transportation used throughout history and around the world.
Use Interests as Lead-ins
You can use your child's interest in a topic to lead into
another unit study or section of a textbook. An example would
be using an interest in horses to introduce the study of a culture,
historic period, or a geographic area in which horses were used.
Or use the interest to lead into a study of art, music, and
literature beginning with pieces that include horses.
Other Connections
Look for a way to connect your child's interest to any
study.
* If your daughter likes scrapbooking, have her do some of her
reports in that style, perhaps providing special papers and
stamps as incentives.
* If your son is interested in computers, let him type and
format his reports with a word processor and add visual
elements, charts, and web addresses.
B. How To Stimulate
and Develop New Interests
Hopefully your children's interest in the world around them
will continually grow. Interests can be developed in many ways:
Provide Information.
There can be no interest where there is no exposure to a
topic. You must provide some initial experiences that will bring
your child into contact with new things and ideas you wish them
to study.
For example, before studying insects in science, find a
video that will pique your children's interest in insects, or ask
to see an insect collection or display created by a friend.
Look at Pictures.
Buy or borrow from the library, books with large, beautiful
photographs of anything you want to study (e.g., scenery, plants,
animals, or buildings from other places; historical artifacts,
ruins, and shipwrecks). Just browsing through such books with
no pressure to study can awaken interest.
Educational, travel, or dramatic videos can also serve to
stimulate interests in the same way.
Learn Something New Yourself.
When you study calligraphy, calculus, or Calcutta with
enthusiasm, your children can be inspired by your love of
learning and absorb some of your own interest in the subject
or a related subject.
Invest in Educational Materials.
Invest in books, materials, special tools, etc. that will
make a topic more interesting (e.g., a telescope, chemistry set,
nature guide, or camera).
Ask Questions.
As you walk, drive, or talk together, look for things to
wonder about. "What kind of tree is that?" "Did you see that
bird?" "How many houses the size of ours could fit in that new
building?"
____________________________________________________

Ready, Set, Start To Sew:
Introducing
Janome Jem Gold 2
Bring home the machine that's
perfect for students and get
our Sewing Essentials Kit Free
($142 retail value). Just 12 pounds, the Jem Gold 2 comes
with 12 essential stitches, including a built-in buttonhole.
Light, sleek, and easy-to-carry, it offers big machine
features: needle threader, thread cutter, and a reverse stitch
lever. And it delivers Janome stitch quality with a jam-proof
drop-in bobbin and accurate feeding system. Find out more:
http://www.janome.com/teaching-home-fall-04-jem-ad.html
____________________________________________________
10. Provide Variety
Be creative and include as much variety in your methods and
materials as possible. Always be on the lookout for new ideas
and ways of doing things. (Hopefully you will find many in these
newsletters.)
* Use lots of examples, illustrations, anecdotes, and stories.
* Use humor when appropriate.
* Try something new -- a new order of classes, a new book,
a new place to meet, a new visual aid, etc.
Add Interest
* Use related videos to introduce a subject or to lend more
background or interest.
* Take a field trip to see something related to your study.
Use Emotions
Evoke an emotional response by revealing your own feelings
or by doing something unexpected.
* Make something fun, exciting, or happy.
* Sometimes it is appropriate to explore sorrow or grief.
For example, recount a period of history from the point of
view of someone who suffered in it.
____________________________________________________
For the Heart, Home & Mind
Resources to help women find
quiet, even if for a moment, in their
hearts, homes and minds. Through
the home party channel, we offer spiritual books, beautiful home
decor items, inspirational music cds and more. For more
information call Annette 800-498-4316. QP4U@myfamily.com
____________________________________________________
11. Be a Good Example
Your Attitude
How you feel about the subject of study will be as plain as
day to your children and will either motivate or discourage
them. You might need to become motivated yourself first, before
you can hope to motivate your children.
Good teachers usually love the subject they are teaching.
You can become positive, even enthusiastic, about subjects you
don't like to teach if you ask the Lord to help you and work
consciously to change your perspective.
Energetic teaching is a motivating factor. Your enthusiasm
will be transmitted to your students, who will be more likely to
become interested.
Your Example
Let your children see you follow your interest, or need to
know, in researching and learning about something.
As home educators, we do not need to pretend that we already
know everything that we are teaching our children. Sometimes the
most interested and motivated person in the class is the teacher
who shows her enjoyment of learning. This is very good as it
provides an excellent example to the children.
12. Maintain a Positive Relationship
If you have a loving relationship with your child (as parent
to child, not "buddy-buddy"), your child will have a desire for
your approval and be motivated to learn in order to please you.
* Be careful to notice his positive accomplishments and
acknowledge them with appropriate commendation (not over-
inflated praise that is seen as insincere).
* Provide constant encouragement.
* During a lesson, make positive contact with your child,
verbally (warm, calm, and kind tone) and nonverbally (eye
contact, smile, nod, or affectionate touch or pat).
Fathers
Fathers can be involved by showing their interest. For
example, they can ask, "What did you learn today?" and then take
time to listen and give words of approval and encouragement.
____________________________________________________
51 Back Issues of The
Teaching Home Magazine
Offered for Sale Online.

Full of information, inspiration, and support that never goes
out of date. These issues are relevant and applicable to your
needs today. http://theteachinghomen.goemerchant7.com
In each issue an average of 58 home schoolers contribute
practical how-to articles, encouraging letters, and ready-to-use
teaching tips.
____________________________________________________
13. Employ Accountability
Just as our children's yearly exams provide accountability,
and thus motivation, for us as teachers, your child can be
motivated to learn if he knows that he is accountable to someone.
Fathers
As head of the house, the father can hold his children
accountable for their attitudes, behavior, and studies. For
example, if a child is not doing his best, Father might ask his
child to write down what he could do to improve his effort.
Also, a grandparent or friend might take an interest in your
child's progress in a subject that needs work and ask for a
specific report once a week.
14. Utilize Teamwork
In Your Own Family First
Children are naturally gregarious. They like being around
each other, and can learn to work as a team. You can add
motivation by teaching several of your children in one class as
described in newsletter #91.
http://www.teachinghome.com/newsletters/vol_2-no_91.cfm
Your younger students will be motivated to learn by having
your older children help. And since teaching someone else is the
best way to learn, your students who teach each other will learn
better than if they were learning alone.
You can take advantage of group dynamics if you:
* Design some team assignments.
* Have group discussions.
* Replace idle chatter with intellectual discussions.
* Try brainstorming sessions to come up with solutions to a
problem and look at the pros and cons of each.
* Practice role playing.
* Take turns reading aloud.
* Include Dad in your group when possible
Other Group Learning Activities
Your children might be more motivated to study a subject
such as science with another family. You could meet together
once a week after completing assignments separately throughout
the week.
Or two families might study the same subject on the same
schedule, compare their progress frequently, and have a report,
presentation, or celebration once a month or quarter. (This could
also motivate teachers to stay on course!)
____________________________________________________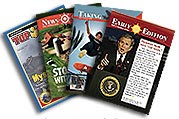 God's World News Is
a Welcome Complement
to Your Curriculum.
These weekly current events and activity newspapers use
today's news and discoveries to help you teach your children
to develop a Christian perspective on world events. Your
children will love the fascinating stories, colorful photos, and
engaging activities. http://www.gwnews.com/theteachinghome/
(Please use the special link above so that your order will be
credited to The Teaching Home's affiliate account. Thank you.)
____________________________________________________
15. Make Use of Competition
Competition can be extremely motivating for some children
and paralyzing for others; know your child. Some options are:
* Competing against his own, a sibling's, or a friend's best
score and/or time.
Some educational computer software keeps track of such
accomplishments.
* Preparation and participation in a local or national contest.
See information on making a contest a learning experience
and a list of more than 100 national contests at
http://www.teachinghome.com/newsletters/vol_2-no_51.cfm.
Go to the Lord for Help
Take your concerns about your children, their motivation,
and your teaching to the Lord in prayer every hour of every day.
He offers you help, guidance, wisdom, and strength, as well as
His very presence with you at all times. What else do you need?!
"My soul, wait thou only upon God;
for my expectation is from Him.
He only is my rock and my salvation:
He is my defense;
I shall not be moved.
In God is my salvation and my glory:
the rock of my strength,
and my refuge, is in God.
Trust in him at all times; ye people,
pour out your heart before him:
God is a refuge for us."
(Psalms 62:5-8)
Don't forget to praise and thank Him for all He has already
done for you.
____________________________________________________
Please Thank and Support
Our Sponsoring Advertisers!
These free newsletters are made possible financially by
the fine suppliers who advertise in them and the accompanying
e-mail. Please consider those that advertised in our last issue
(below) as well as the ones in this issue.
Hexco Academic: Spelling Mentor and SAT Software
http://hexco.com/hexcoacademic.htm
Moonjar Moneyboxes
http://www.moonjar.com
The Home Educator's Booksale
http://www.homeschoolbooksale.com
Quiet Places
800-498-4316. QP4U@myfamily.com
Money Camp Teacher Training Camp
http://www.themoneycamp.com
At Home Wellness
http://www.AtHomeWellness.com
God's World Weekly Current Events Newspapers
http://www.gwnews.com/theteachinghome/
____________________________________________________
Sunnyside Up: An Unlikely Status Symbol
Our three boys are all equally precious to us, but Jacob
often complained about being the middle. In his words, he's never
first or never last, but just stuck in the middle.
One day while making his favorite sandwich, I began, "Jacob,
when we make a sandwich, where is the best part? In the middle,
right?"
Jacob's eyes sparkled as he exclaimed, "You mean I'm the
baloney?!"
Submitted by Kathleen R., Wisconsin.
____________________________________________________
God Loves You.
Because we were separated from God by sin, Jesus Christ
died in our place, then rose to life again. If we trust Jesus Christ
as our Savior and Lord, He will give us eternal life.
"For by grace you have been saved through faith; and that
not of yourselves, it is the gift of God; not as a result of
works, that no one should boast" (Ephesians 2:8, 9).
http://www.TeachingHome.com/about/Salvation.cfm
____________________________________________________
To Unsubscribe. Please reply to this message and type
"Unsubscribe" in the subject line.
Change of E-Mail Address. Please send your name,
old e-mail address, and new e-mail address.
Sign up for a Free Newsletter Subscription at
http://www.TeachingHome.com/SignUp.
For Information on Advertising in this newsletter, see
http://www.TeachingHome.com/resources/howto.cfm.
Newsletter Archives.
http://www.TeachingHome.com/newsletters
E-Mail Newsletter Reprint Policy. This newsletter is
copyright 2004 by The Teaching Home. Permission is given to
forward or to print and distribute this e-mail in its entirety.
Individual articles from this E-Mail Newsletter may also be reprinted
unedited in their entirety. Please include "by Cindy Short and Sue
Welch" and print the following at the end of the article(s): "Copyright
2004 by The Teaching Home, www.TeachingHome.com. Reprinted
by permission."
Please Note: We do not give permission to post articles on a website.
Reprints from The Teaching Home Magazine. Fill out
a Request Form and note the reprint policies.
http://www.TeachingHome.com/groups/reprint_form.cfm