"Spelling Mentor and SAT Software" is the subject line of the e-mail accompanying and sponsoring this newsletter.

Invite your friends to subscribe to this free e-mail newsletter at http://www.TeachingHome.com/SignUp.

Table of Contents
15 Ways To Motivate Your Child To Learn, Part 1
1. Appeal to Spiritual Motives
2. Clearly Define Goals
3. Reveal the Purpose of the Study
4. Set the Stage
5. Enable and Recognize Success
6. Capitalize on Learning Styles
7. Give Incentives
Recommended Resources
Moonjar Moneyboxes
The Home Educator's Booksale
Quiet Places
Money Camp Teacher Training Camp
At Home Wellness
God's World News
Sunnyside Up: Humorous Anecdote

Greetings,

Motivation is the wind in the sails that carries your child
along in his learning. With motivation, he will learn, understand,
and retain more. He will also do it willingly, easily, and quickly
to boot!
Wow! What home educator wouldn't want to develop and
harness that potential?
In this issue we offer practical ways to motivate your child
to learn.
May the Lord bless your family for His glory!

Cordially,
Pat, Sue, Heather, Holly, and Brian Welch
The Teaching Home is a 24-year-old, home-school family business.

Continue Receiving This Free E-Mail Newsletter
Whitelist us by putting the following information in your program:
* Our "From" address: Publisher@TeachingHome.com.
* Our sending IP address: 199.108.225.11.
* Our domain name: teachinghome.com.
____________________________________________________


Talking to Your Children
About Money & Stewardship?
Moonjar Moneyboxes are fun,
hands-on tools, teaching basics of
money management and good
stewardship through Spending,
Saving and Sharing. Call 888-323-0001 for home-school pricing.
See Moonjar's complete product line: http://www.moonjar.com
____________________________________________________
15 Ways To Motivate Your Child To Learn
by Cindy Short and Sue Welch, editors
As noted above, with motivation, your child will learn, understand,
and retain more. He will also do it willingly, easily, and quickly
to boot!
A student who has very little motivation will give his teacher
very little cooperation and will learn very little.
In other words, "we can do this the hard way or the easy way."
We hope this is motivation for you to learn how to motivate your
children!
Here, then, are some strategies for motivating your children
to learn, to give their best performance, and to achieve their potential.
1. Appeal to Spiritual Motives
The purest motivation your children can have for learning is to
prepare themselves for serving the Lord and others throughout life.
This kind of motivation is possible only after our children
have come to know the Lord Jesus Christ, to place saving faith in
Him, to love Him with all their hearts, and to yield their lives to Him.
Children who desire to obey the Lord by obeying their parents
will be motivated to respond to their parents' instruction.
"The fear of the Lord is the beginning of knowledge;
Hear, my son, your father's instruction
And do not forsake your mother's teaching."
Proverbs 1:7-8
Likewise, our highest motive as Christian home educators is
to bring up children who have that kind of motivation and relationship
with the Lord.
This motivation should be constantly before us and our
children. One way to achieve this is through our family mission
statement and stated educational goals. See our newsletters on
these topics.
http://www.teachinghome.com/newsletters/vol_2-no_80.cfm
http://www.teachinghome.com/newsletters/vol_2-no_81.cfm
Our last newsletter suggested ways to make the Lord the
center of your home school.
http://www.teachinghome.com/newsletters/vol_2-no_92.cfm
____________________________________________________
Sell your used curricula with The Home Educator's
Booksale! Buy and sell used education materials. Connect with
other home schoolers. http://www.homeschoolbooksale.com
____________________________________________________
2. Clearly Define Goals
Knowing what you are aiming for helps you to hit the mark.
Therefore, goals that are specific, measurable, and obtainable can
provide motivation for your children.
The Big Picture
At the beginning of each school year and each course, take
time to discuss with your child the objectives of the course and
how it fits into the big picture of his education and his life.
A Road Map
Give your child an overview or outline (called a syllabus)
of each class. This should provide a clear picture of where he
is going, how he will be getting there, and how he will know
when he has arrived, as follows:
* What he will be learning -- the scope and content.
* How he will be learning -- methods, materials, assignments.
* When he will finish -- schedule, tests, and deadlines.
Individual Assignments
Explain exactly what is expected for each assignment or
activity. If your child is uncertain about what to do, he will
not be motivated to do it or do as well as he could.
____________________________________________________
For the Heart, Home & Mind
Resources to help women find
quiet, even if for a moment, in their
hearts, homes and minds. Through
the home party channel, we offer spiritual books, beautiful home
decor items, inspirational music cds and more. For more
information call Annette 800-498-4316. QP4U@myfamily.com
____________________________________________________
3. Reveal the Purpose of the Study
Your introduction to each course (see above) also needs to
include the reasons for studying that subject.
Your student might already have a conscious need to learn
this material, but often you must bring your child to an
awareness of his need.
"Why do I have to learn this stuff? I'll never use it."
These comments speak to the basic need we have for everything we
do to have a purpose.
See information and links in our last newsletter in the
section "Include the Lord in All Your Studies," which gives some
practical uses and applications unique to Christians for the
different areas of study.
http://www.teachinghome.com/newsletters/vol_2-no_92.cfm
Examples
Take time to explain why the subject matter is important and
worthwhile.
Following are some of the important reasons to study any
subject with specific examples provided for math.
* Everyday applications (e.g., measuring, cooking, woodwork,
and handling money).
* Future life skills that everyone needs (e.g., shopping, taxes,
comparing payment methods, and budgets).
* Future occupations (e.g., science, electronics, physics,
medicine, and many others).
* To keep options open for a variety of future opportunities.
* To have basic information in common with other educated
people (called cultural literacy) in order to communicate
knowledgeably and understand references made by others in their
communication (e.g., in ordinary conversation, books, and news
broadcasts).
* As a testimony for the Lord we need to be well educated.
* Some learning (such as algebra) is just good brain exercise
and develops our logical thinking skills.
(Motivation for home-school teachers: Recent discoveries
show that maintaining and exercising such thinking skills can
prevent or delay loss of memory as we age.)
Testimonials
Ask your friends to explain how a certain subject helps them
in their work. For example, ask an engineer and his family over
for dinner with the purpose of talking to your children about
how he uses math in his profession, or tell them about a friend who
flunked out of flight school because he did not know his math well
enough.
____________________________________________________
Money Camp Teacher Training Camp
Oct. 14-16, Santa Barbara, Calif.
The Money Camp is a unique Financial Literacy Curriculum and
Financial Playbook that can be used in any school or community
setting for kids ages 10 and up. Attend our 3-day Teacher
Training; become the Certified Money Camp Coach in your area!
$295 (ask us about our teacher's discount).
Curriculum and Playbook are also available for purchase.
Call 805-957-1024 or visit http://www.themoneycamp.com.
____________________________________________________
4. Set the Stage
Atmosphere can be motivating or unmotivating.
Where does each of your children study most efficiently?
Does he do his math best at the kitchen table with you or alone
at a desk in his room? Wherever you choose for a class, provide
the following:
* A peaceful and quiet place with no distractions.
* An orderly surrounding, (not at a messy table or in a
cluttered living room).
* Comfortable seating and writing space.
* A glass of water.
* Quiet instrumental background music if not distracting.
(Baroque music has been shown to help some mental processes.)
* Well-organized and easily accessed books and supplies. (It
is very unmotivating to have to search for the book before you
can start studying!)
____________________________________________________
Protect Your Children
from Harmful
Household Products!
Try quality products for your
home today that are safe, non-toxic,
and cost-effective -- and earn extra
income along the way! Contact me for more information.
Malynda Lucy AtHomeWellness@hotmail.com
http://www.AtHomeWellness.com
____________________________________________________
5. Enable and Recognize Success
Success (in even a small area) is a powerful motivation for
continued effort.
Recognition for accomplishment reinforces the desire to go
on. And the pure joy of achievement is a reward your children
can learn to appreciate and seek.
Success
You can help your child succeed if you:
* Make sure that the level of teaching challenges your child,
but is not beyond his ability.
* Break learning into small pieces that are clearly defined
and obtainable.
* Be positive in your expectations as you talk to your child
about his ability to do well in a given subject.
* Help your child overcome habits of laziness or
nonproductivity. See our series on habits and character.
http://www.teachinghome.com/newsletters/
Recognition
Recognize your child's success:
* Point out his past successes to build his confidence and
desire to continue.
* Constantly give words of recognition for accomplishments,
large or small. It might be simply saying, "Good," at the
end of each paragraph for a new reader, or "That's right!" for
the correct answer to a question.
* Make his writings into a booklet or family newsletter sent
to relatives.
* Display his projects at a science fair or support group
function.
* Have friends over to hear a presentation or see projects.
* Enjoy a special trip or dinner after a certain achievement.
* Create a certificate of accomplishment, complete with a seal
and signatures.
____________________________________________________
51 Back Issues of The
Teaching Home Magazine
Offered for Sale Online.

Full of information, inspiration, and support that never goes
out of date. These issues are relevant and applicable to your
needs today. http://theteachinghomen.goemerchant7.com
In each issue an average of 58 home schoolers contribute
practical how-to articles, encouraging letters, and ready-to-use
teaching tips.
____________________________________________________
6. Capitalize on Learning Styles
Use your child's dominant learning preference (visual,
auditory, or kinesthetic) when introducing new concepts or
working on a subject that is difficult or unappealing to him.
Visual
Memory is often connected to visual images. We can provide
motivation and better learning by attaching images to the
material we teach. Use:
* Drawings, diagrams, pictures, posters, charts, and graphs.
* Globes, maps, and timelines.
* Bulleted lists, outlines, and material formatted to show
relationships.
* Objects to help students anchor an idea to an image.
* Imagination to picture something in your mind.
* Videos.
Auditory
An auditory learner learns best and easiest through his
sense of hearing. He will find it easier to learn and thus more
motivating if you:
* Read aloud about the subject.
* Play CDs, tapes, and videos.
* Have frequent discussions.
Kinesthetic
Many children (especially younger students and boys) learn
best when they are physically active. Hands-on learning, even
for part of the lesson, will help motivate them.
Try to to include both mental and physical activity by
having your child:
* Produce or make a project.
* Act out something.
* Use manipulative objects to figure out problems or
demonstrate a concept.
* Take a nature walk or field trip.
____________________________________________________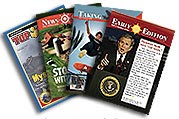 God's World News Is
a Welcome Complement
to Your Curriculum.
These weekly current events and activity newspapers use
today's news and discoveries to help you teach your children
to develop a Christian perspective on world events. Your
children will love the fascinating stories, colorful photos, and
engaging activities. http://www.gwnews.com/theteachinghome/
(Please use the special link above so that your order will be
credited to The Teaching Home's affiliate account. Thank you.)
____________________________________________________
7. Give Incentives
The Use of Rewards
Children who do not yet have their own intrinsic motivation
to learn can be helped by extrinsic motivators in the form of
rewards. Over a brief period of time, the feeling of
accomplishment and recognition become their own rewards for good
work.
A reward is a tangible recognition of an accomplishment. It
can (and should) be small and appropriate to the level of your
child. Rewards can include:
* Prizes, or points to earn a larger prize.
* Exemptions from extra work.
* Verbal praise. Even a "Good Job!" stamp or sticker can
encourage a student to perform at higher levels.
Other Incentives
* An attractive new notebook in which your child can write her
personal spelling list.
* Educational materials such as a telescope, nature guide, or
camera to use in their study or projects.
* A special study area and supplies.
Accentuate the Positive
Reward correct behavior and answers, rather than only
criticizing unwanted behavior or incorrect answers. Your children
will continue or repeat behavior that is rewarded. Reward for:
* Achievement.
* Attitude.
* Diligence and effort.
Save the Best for Last
An old incentive is called the "grandmother principle": "If you
do this first, then you can do that thing that you really want to do!"
For example, "After you finish your spelling list (not her
favorite subject), we will do art (her favorite!)."
Just Do It
A concept that you need to teach your children is that
everything that is worthwhile is not necessarily always
enjoyable. Some things take "plain ol' work." This is an
important life-skill lesson that should not be overshadowed by
our efforts to provide positive incentives and motivations.
The old-fashioned concept of duty has received bad press,
but it is very legitimate and useful in real life.
Discipline and Correction
Although we want to provide positive and enjoyable
motivation for our children as much as possible, negative
consequences are sometimes appropriate.
It is always correct to lovingly require your children to
obey the Lord by obeying you, whether they are motivated
to or not.
"Children, obey your parents in the Lord, for this is right."
Ephesians 6:1
God has directed parents to administer discipline and
correction when needed. This would primarily be for rebellion,
whether active or passive.
Correct your son, and he will give you comfort;
He will also delight your soul.
Proverbs 29:17
See newsletter #45 on child training and discipline.
http://www.teachinghome.com/newsletters/vol_2-no_45.cfm
15 Ways To Motivate Your Child To Learn (continued)
This series will be continued next week with the following:
8. Get Your Child Involved
9. Know and Use Your Child's Interests
10. Provide Variety
11. Be a Good Example
12. Maintain a Positive Relationship
13. Employ Accountability
14. Utilize Teamwork
15. Make Careful Use of Competition
Go to the Lord for Help
____________________________________________________
Please Thank and Support
Our Sponsoring Advertisers!
These free newsletters are made possible financially by
the fine suppliers who advertise in them and the accompanying
e-mail. Please consider those that advertised in our last issue
(below) as well as the ones in this issue.
Keyboard Enterprises: Get Math Relief
http://www.mathrelief.com
Academic Book Services: Quality Used Textbooks
http://www.absathome.com
Beyond Phonics for Poor Spellers
http://www.beyondphonics.com
"School Days Devotional Praise"
http://www.storesonline.com/site/331083/product/588-4462914
"Christian Ethics for Youth"
http://www.storesonline.com/site/331083/product/49-4794943
God's World Weekly Current Events Newspapers
http://www.gwnews.com/theteachinghome/
____________________________________________________
Sunnyside Up: Fore!
I used Hurricane Andrew to teach our children about
hurricanes. When the hurricane was approaching the Gulf Coast,
our 5-year-old daughter came running to me with excitement in her
voice exclaiming, "Mommy, I just heard on the radio the hurricane
is about to hit the golf course!"
Submitted by Donna B., Idaho.
____________________________________________________
God Loves You.
Because we were separated from God by sin, Jesus Christ
died in our place, then rose to life again. If we trust Jesus Christ
as our Savior and Lord, He will give us eternal life.
"For by grace you have been saved through faith; and that
not of yourselves, it is the gift of God; not as a result of
works, that no one should boast" (Ephesians 2:8, 9).
http://www.TeachingHome.com/about/Salvation.cfm
____________________________________________________
To Unsubscribe. Please reply to this message and type
"Unsubscribe" in the subject line.
Change of E-Mail Address. Please send your name,
old e-mail address, and new e-mail address.
Sign up for a Free Newsletter Subscription at
http://www.TeachingHome.com/SignUp.
For Information on Advertising in this newsletter, see
http://www.TeachingHome.com/resources/howto.cfm.
Newsletter Archives.
http://www.TeachingHome.com/newsletters
E-Mail Newsletter Reprint Policy. This newsletter is
copyright 2004 by The Teaching Home. Permission is given to
forward or to print and distribute this e-mail in its entirety.
Individual articles from this E-Mail Newsletter may also be reprinted
unedited in their entirety. Please include "by Cindy Short and Sue
Welch" and print the following at the end of the article(s): "Copyright
2004 by The Teaching Home, www.TeachingHome.com. Reprinted
by permission."
Please Note: We do not give permission to post articles on a website.
Reprints from The Teaching Home Magazine. Fill out
a Request Form and note the reprint policies.
http://www.TeachingHome.com/groups/reprint_form.cfm