"Interdisciplinary Wildlife Curriculum"
is the subject line of the e-mail accompanying
and sponsoring this newsletter.
Discover God's wonders of wildlife while
learning English, science, geography, and math.
14 lesson plans; reproducible worksheets; interactive CD-ROM;
70+ wildlife species; 300+ pages. A great value at $39.95.
Do you enjoy this free newsletter and find it helpful?
If so, please forward it on to your friends or support group, and let
them know that they can sign up at http://www.teachinghome.com/SignUp.

TABLE OF CONTENTS
Spring into Nature
Seeing God in Nature
Go on a Nature Walk
Plant and Animal Identification
Keeping a Nature Notebook
Art: Nature Studies
Recommended Resources
God's World Current Events Newspapers
Teaching Home Magazine Back Issues
Life Checks
Sunnyside Up: Humorous Anecdote
Greetings!
Spring is here. It's time to get out of the house, go for a
walk, and enjoy nature. Along the way you will find many
opportunities to learn about, appreciate, and wonder at God's
creation.
May the Lord bless you and your family for His glory.
Cordially,
Cindy Short and Sue Welch, Sisters and Co-Editors
The Pat Welch Family, Publishers
Pat, Sue, Heather, Holly, and Brian
____________________________________________________
Spring into Nature
Seeing God in Nature
The Bible says that God has revealed Himself through His
creation. We can build our children's faith when we point them
to the Creator through the study of all the wonders He has made.
"For since the creation of the world
His [God's] invisible attributes,
His eternal power and divine nature,
have been clearly seen,
Being understood through what has been made,
so that they are without excuse." (Romans 1:20).
"The heavens are telling of the glory of God;
And their expanse is declaring the work of His hands.
Day to day pours forth speech,
And night to night reveals knowledge." (Psalms 19:1-2)
1. Start with Creation.
Teach your children about creation directly from the Scriptures,
starting in Genesis.
2. Proceed to Appreciation.
Teach your children to appreciate and wonder at God's
creation as you drive, walk, view videos, or look at books.
Notice:
* Its beauty
* Its complexity
* Its order
* Its incredible dimensions, both large and small
3. Not Neglecting Praise.
Don't stop with appreciation and wonder; go on to express
praise and thanksgiving to the Lord for His creation.
"I will bless the Lord at all times;
His praise shall continually be in my mouth."
Psalms 34:1
4. Seeing What God Is Like
Help your children see God's attributes in creation. (Read
Psalm 104 and Psalm 139:13-16.) Some examples include:
* Power and Might - in thunderstorms and the pounding waves
* Faithfulness - in the consistent days, months, seasons
* Love and Care - for the smallest bird (Matt. 10:29)
* Beauty - in scenery, flowers, sunsets, etc.
* Majesty - in the grandeur of mountains and canyons
* Infiniteness - in the expanse of the universe
* Orderliness - in migration and design
* Creativity - in the variety of nature
Quote of Note
"I love to think of nature as an unlimited broadcasting station
through which God speaks to us every hour, if we will only tune in."
-- George Washington Carver
Resources To Help You See God in Nature
* Christian Textbooks, Worktexts, and Unit Studies.
http://www.teachinghome.com/resources/alphaindex.cfm
* Answers In Genesis, mega-website with articles and resources.
http://www.answersingenesis.org
* Nature Friend, an excellent Christian magazine for children.
http://www.amazon.com/exec/obidos/redirect?tag=theteachingho-20&path=ASIN/B00006KPDP/qid%3D1112142881/sr%3D11-1/ref%3Dsr%5F11%5F1
* Creation Illustrated, a beautiful Christian magazine.
http://www.creationillustrated.com
____________________________________________________
Never Out of Date:
Teaching Home Magazine
Back Issues
Many home schoolers have
found information, inspiration, and
support from the writers who have
contributed to The Teaching Home
magazine for more than 20 years.
51 Back Issues Are Offered for Sale Online.
These back issues never go out of date. They are relevant
and applicable to your needs today.
http://theteachinghomen.goemerchant7.com
____________________________________________________
Go on a Nature Walk
Walking out-of-doors with your children is a wonderful daily
habit. The benefits include:
* An invigorating change of pace.
* An excellent form of exercise.
* A time to visit with, and teach, your children.
* An opportunity to observe and appreciate nature.
You can casually notice and comment on things in nature from
time to time as you walk along, or you can plan a more "formal"
nature walk.
Either way, it is important to teach your children, by word
and example, to be aware of their surroundings and see the beauty
of God's creation all around them.
Wherever you go, be sure you know and observe posted rules,
common courtesy, and safety. Stay on the paths, no loud running
around other people, no picking plants or removing wildlife, avoid
poisonous plants or snakes, etc.
See safety pointers at http://www.fs.fed.us/safety/.
Where To Go
* Within walking distance: around your own yard, neighborhood,
nearby park.
* Within driving distance: a nearby conservation area; garden;
arboretum; county, state, or national forest or park; or the beach.
Audubon Centers and Sanctuaries
http://www.audubon.org/local/sanctuary/index.html
National Forests
http://www.fs.fed.us/maps/forest-maps.shtml
National Park Service
http://data2.itc.nps.gov/parksearch/geosearch.cfm
For State Parks in your state, search "state park" in Google.
When To Go
* During your daily scheduled walk time.
* Try walking your regular route at different times during the
day and observing any differences.
* At night (for a change). Take Dad or a teenage brother,
follow safety precautions, and go quietly so as not to disturb
your neighbors.
* A whole or half day outing and picnic with Dad and/or another
family.
What To Take
Be prepared to observe nature and make your walk safe and
comfortable by bringing:
* Your curiosity. On the way, talk about things you might see
and raise questions about them.
* Snacks and water
* First aid kit.
* Magnifying glass for a closer look at details. The large
size is handier to use for small things like bugs.
* Binoculars for long-distance things like birds.
* Camera to capture images of nature.
* Plastic jar with mesh lid for insects.
* Plastic bag to collect items such as small rocks, shells,
leaves, pine cones, or sticks.
* Sketch book or small notebook for notes.
* Regular No. 2 pencil and/or good quality colored pencils and
a good eraser.
* Nature field guide(s) of birds, insects, mammals, trees,
plants, wildflowers, rocks, shells, etc. Look for those that
specialize in species found in your state or region.
Resources
See more than 15,000 nature related books and products
(including 423 different field guides) at
http://www.wildlifeforever.org/store/default.aspx
Types of Walks
You can add variety to your nature walks and learn more by
trying some of the following:
Penny Walk
As you walk in your neighborhood, flip a penny at every
corner and go right if it is heads, and left if it is tails.
A to Z Walk
Look for an item in nature for every letter of the alphabet
that you can. (You might have to use scientific names from your
guidebook for some letters.)
Rainbow Walk
Try to find something for every color of the rainbow.
Leave-It-Where-You-Find-It Scavenger Hunt Walk"
Make a list and look for items such as something hard, soft,
short, long, fuzzy, smooth, large, small.
For a greater challenge, list specific species of plant or
animal or types of rocks, leaves, or clouds, etc.
If you have a digital camera, you might photograph each item
for viewing on your TV screen.
Four Senses Walk
(It's safer not to use the sense of taste!) Use your senses
to observe nature by seeing, touching, smelling, and hearing.
Try to concentrate on listening to sounds on your night walk
when you are not distracted by seeing things.
Print a worksheet for this walk and find other ideas at
http://www.naturely.com/archives.htm.
Include Worship.
If your family is in an area by yourselves, it can be very
meaningful to quote or read a few Bible verses (Psalm 19), sing a
song ("How Great Thou Art"), and pray, praising and thanking the
Lord for the beauty of the earth.
If you are not able to have a time of worship outside, you
might quote Scripture, sing softly, and pray in a conversational
manner as you walk along the trail or ride home in the car.
More Advanced Options
Your family may find that they want to make a serious hobby
(at least for one spring or summer) of one of the following:
* Bird watching
Cornell Lab of Ornithology, http://www.birds.cornell.edu
National Audubon Society. http://www.audubon.org
Online Bird Guide
http://www.birds.cornell.edu/programs/AllAboutBirds/BirdGuide


* Entomology
Gather, study, and display insects.
Collections can be entered in state fairs.
Don't miss these great websites:
http://www.insects.org/
http://www.hometrainingtools.com/articles/teaching-tips/life-sciences/acat_insects.html
* Hiking or Backpacking
____________________________________________________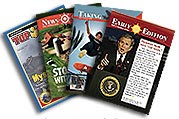 God's World News Is
a Welcome Complement
to Your Curriculum.
These weekly current events and activity newspapers use
today's news and discoveries to help you teach your children
to develop a Christian perspective on world events. Your
children will love the fascinating stories, colorful photos, and
engaging activities. http://www.gwnews.com/theteachinghome/
(Please use the special link above so that your order will be
credited to The Teaching Home's affiliate account. Thank you.)
____________________________________________________
Plant and Animal Identification
by Joy Marie Dunlap
A particular focus in our children's
science study has been the careful
observation of God's creation.
Familiarize your children with field
guides, showing them the different plant
families. Show them how to identify a
plant by its shape, size, color, fruit, seeds,
and leaves.
* See if you can identify all the shrubs and trees in your yard.
* Then go to a park and identify plants there as well.
* Go on to identify birds, mammals, reptiles, amphibians,
insects, and fish.
Young Children
Younger children may not be ready for the technical details
required by this exercise, but there are things you can do now to
get them ready to use a field guide later.
When your young child sees a bird, ask him to notice and
describe different characteristics to you.
* Was it larger or smaller than a robin?
* What color was it?
* Was its tail short or long?
* Did it have a crest?
* What about stripes, spots, or other markings?
* Did it fly smoothly or like a roller coaster?
List and Count
Our younger children have enjoyed making a list of the
creatures they see on a walk. We often take long walks in nature
and see rabbits, squirrels, ducks, hawks, egrets, and other wild
creatures which are easy to identify.
Our children also count how many of each they see and write
it down either on the walk or as soon as they get home.
This is the way naturalists become familiar with wildlife
populations. In fact, a local naturalist, seeing our children's
enthusiasm for wild creatures, asked us to help her by counting
the bats in our area.
____________________________________________________

Spread the
Good Word
with LifeChecks

Share your beliefs and values each time you write a check.
Also add a Scripture verse. Save as much as 50% off the cost
of bank checks. Labels and accessories available. 100%
guaranteed. 1-888-478-9537.
http://www.lifechecks-a.com/u/life/t.asp?id=2963055
____________________________________________________
Keeping a Nature Notebook
A Nature Notebook gives your child
a record of his discoveries as well as a
journal of the places he has visited. It
can help your child become more
observant and extend your learning time
after your walk. Plus, it's just plain fun!
Materials List
Notebook
A spiral-bound notebook that opens
flat with unlined, medium to heavyweight white pages.
Pencils, Pens, Paints, etc.
Good quality colored pencils or, for variety, watercolor
paints or watercolor pencils.
Flower Press
Small types are available at craft stores or you can do your
own by layering smooth, thick paper towels between pieces of
corrugated cardboard and stacking heavy books on top.
Clear Contact Paper
Use to protect pressed flowers and leaves that have been
glued on the pages. Wait for the glue to dry first.
What To Include
Your nature journal or notebook will be a record of your
observations, using any or all of the following:
* Written record of item, date and place found or seen.
* Drawing of item in various media. This can be your original
sketch or a drawing from a field guide.
* Photo or post card of item.
* Dried and pressed flowers or leaves (if collection is allowed
by law or the property owner). Note: With the danger of
bird flu, teach your children not to pick up feathers.
* A rubbing of tree bark or leaves.
* Added sentence or paragraph about the circumstances of found
item.
* An appropriate quote, Bible verse, or poem.
Resources
Junior Scientist Field Journal
http://www.hometrainingtools.com/catalog/life-science-biology/nature-biology-books/p_bk-journal.html
Online Field Journal. Suggestions for keeping a nature journal,
plus printable pages to record information and make drawings.
http://www.amnh.org/nationalcenter/online_field_journal/fj/fj_menu.html
Suggestions and sample pages of a nature journal.
http://www.susq-town.org/byer/New%20Reading%20Themes/keeping_a_nature_journal.htm
____________________________________________________
Please Thank and Support
Our Sponsoring Advertisers!
These free newsletters are made possible financially by the
fine suppliers who advertise in them and in the accompanying
e-mail. Please consider those that advertised in our last issue
(below) as well as the ones in this issue.
"Get Math Relief" Firebaugh's Algebra Courses on DVD or Videotape
http://www.mathrelief.comNew Address: MathRelief@socal.rr.com
Moody Science Classics 20-Volume Video Collection 1-800-678-8812.
http://www.moodypublishers.com/Publishers/default.asp?SectionID=B52F15D175DC433BA20DD62D3EF94C40
Guitar Lessons from Jean Welles Worship Guitar Class
http://kidsguitarlessons.com/home.html
http://www.worshipguitarclass.com/lessons.html
Bright Beginnings: Complete Christian Preschool Curriculum
http://www.bright-beginnings.net
"Hidden Treasures" 90 Illustrated Proverbs
http://www.doorposts.net
____________________________________________________
Art: Nature Studies
by Barry Stebbing
From the
"How Great Thou Art"
Student Gallery
http://www.howgreatthouart.com


Drawing Out-of-Doors
For the art student, going out-of-doors to study nature can
be very inspiring. In the beginning, however, there may be some
obstacles to overcome.
For one thing, trying to draw everything that is around us
in nature can be overwhelming.
Along with trying to copy every little detail is the added
frustration of working in surroundings that can be uncomfortable:
the wind will blow your papers away, bugs will pester you, the
weather will be too hot or too cold, and passing strangers may
try to see what you are drawing.
However, as you acclimate yourself, you will enjoy working
out-of-doors.
* Make sure to dress comfortably, suitable for the climate or
the season.
* Take along a hat and chair and sit in the shade.
* Clip your artwork down so it doesn't blow in the wind.
* It may be better to start with a small sketchbook, keeping
subject matter simple and colorful.
Most importantly, be thankful that you have God's creation
for subject matter and inspiration.
Creating Greens in Leaves
A simple nature study to start with is leaves.
Most young students go outside with one green pencil and
color everything the same green. It is said that Vincent Van Gogh
knew of over one hundred different greens he could make when
painting out-of-doors.
See how many greens you can find in leaves and then create
these various tones with your colored pencils. Your tones of
green will not be exactly like the greens in the leaves, but this
exercise will teach you the beauty of making a wide variety of
colors.
* Use artist-quality pencils.
* Draw and color each leaf, using various colors to make
different tones of green.
* Draw with one of your colored pencils instead of a drawing
pencil.
* Start with a light color like yellow, and then add darker
colors.
* Don't outline your entire leaf with one heavy line; instead,
only outline certain areas.
Make a Green Color Chart
While you are experimenting with various greens, make a
color chart and place your new greens in it.
* To make a color chart, draw some small squares with a ruler
on a sheet of white paper and then experiment with your
colored pencils, seeing how many new colors you can create.
* First, experiment by blending yellow with blue.
* Another important green is a light, bright yellow/green. This
is the color of grass, bushes, and trees when the sun is
shining on them. To make this color, simply use a lot of
yellow and then place a very light green over it.
* You can also make a light green by using a lot of yellow and
adding a touch of blue. Another green is a dark blue/green,
made by adding a lot of blue over green, making it darker
and richer. This darker green is found in many shaded
areas.
* For a dull green, you can add the complement of green to the
color. A complementary color is simply the color that is
directly opposite to it on the color wheel. Thus, the
complement of green is red.
See how many different greens you can put in your color
chart, and write under each the colors you used to make it,
starting with the color you used most, to the next color, to the
least. For example, a blue/green might be Y + G + B (yellow +
green + blue).
Simple Studies from Nature
* In the beginning, keep your studies as simple as possible:
one leaf, one flower, one pine cone, one branch, etc.
Simple studies are both educational and easy to comprehend.
* Start by drawing each object lightly with a colored pencil.
Then squint your eyes to see how many colors you see in the
object.
* Place those colored pencils in your hand as a reminder, and
then start placing a lot of color into your drawing. Learn
to see color, and don't forget to use a lot of delightful
greens.
So, let's pack up our art materials and venture outside! As you
are surrounded by God's creation, you will sense its wonder and
purpose.
Barry Stebbing is the author of "How Great Thou Art"
instruction materials. http://www.howgreatthouart.com
____________________________________________________
Sunnyside Up: A Kitten by Any Other Name
Angela was 4 when our cat had a litter of kittens. Always
confident that she knows what she's talking about, she announced
as she held up a tiny calico kitten, "Mommy, this one is a boy!"
Knowing that she would have a logical reason for that
statement, I said, "Oh, how do you know that?"
Matter-of-factly she replied, "Because I named him Jim!"
Submitted by Pan P., Washington
____________________________________________________
God Loves You.
Because we have been separated from God by sin, Jesus Christ
died in our place, then rose to life again. If we trust Jesus
Christ as our Savior and Lord, He will give us eternal life.
"For by grace you have been saved through faith; and that
not of yourselves, it is the gift of God; not as a result of
works, that no one should boast" (Ephesians 2:8, 9).
http://www.TeachingHome.com/about/Salvation.cfm
____________________________________________________
To Unsubscribe. Please reply to this message and type
"Unsubscribe" in the subject line.
Change of E-Mail Address. Please send your name,
old e-mail address, and new e-mail address.
For Information on Advertising in this newsletter, see
http://www.TeachingHome.com/resources/howto.cfm.
E-Mail Newsletter Reprint Policy. This newsletter is
copyright 2005 by The Teaching Home. Permission is given to
forward or to print and distribute this e-mail in its entirety.
Individual articles from this E-Mail Newsletter may also be reprinted
unedited in their entirety. Please include "by Cindy Short and Sue
Welch" and print the following at the end of the article(s): "Copyright
2005 by The Teaching Home, www.TeachingHome.com. Reprinted
by permission."
Please Note: We do not give permission to post articles on a website.
Reprints from The Teaching Home Magazine. Fill out
a Request Form and note the reprint policies.
http://www.TeachingHome.com/groups/reprint_form.cfm