1. President's Comments on the Constitution
by George W. Bush
President of the United States of America
The following are excepts from a former Citizenship Day and Constitution Week Proclamation.
Today, we marvel at the wisdom of the Framers who toiled through a long summer of learned and contentious debates.
Their work produced a document that upholds high ideals, while answering the most practical questions of governance. The charter they crafted — with its separate branches of Government, enumerated powers, checks and balances, and later the specific protections provided by our Bill of Rights — guides our Nation and inspires others around the world.
Twin Foundations
As the delegates to the 1787 Constitutional Convention in Philadelphia began working on what would become the United States Constitution, they grasped that a great democracy must be built on the twin foundations of:
• National consent to a Federal Government
• Respect for individual rights.
Balance of Powers
In creating our Nation's Constitutional framework, the Convention's delegates recognized the dangers inherent in concentrating too much power in one person, branch, or institution.
They wisely crafted a Government that balanced the functions and authority of a Federal system among three separate but equal branches:
• The Executive
• The Legislative
• The Judicial.
As a further check on central power, the Framers granted citizens the right to vote, giving them the power to express their political preferences peacefully and thereby to effect change in the Government.
The Convention delegates ratified the Constitution on September 17, 1787, and submitted it to the States for approval.
Bill of Rights
After much deliberation and discussion at the State level, the following two concerns emerged from among those who feared the Constitution's proposed centralization of Federal power:
• The threat of tyranny
• The loss of local control.
To address these fears, our Founders amended the Constitution by adding a Bill of Rights.
These ten amendments provided a series of clear limits on Federal power and a litany of protective rights to citizens.
Today, our Nation celebrates the longest-lived written Constitution in world history.

End of Summer Sale at Doorposts.
Use discount code 070910 for 10% off all orders.



Doorposts: Bible-Based, Parent-Designed, Family-Tested
Products To Help You Apply Scripture in Your Home


Find practical resources that will help you train your children to love and obey God and His Word, as well as prepare them for life as responsible adults.
Books, charts, and other resources include biblical discipline, character training, Scripture memorizing, and more.
Toll Free: (888) 433-4749 www.Doorposts.net.


• Order for Oct. 31: A Night of Reformation.


2. Studying Our Constitution
The Constitution of the United States is the foundation of our American Government. As the supreme law of the land, no law may be passed that contradicts its principles, and no person or government in the nation is exempt from following it.
• Read, study and discuss the Constitution.
• Read the Constitution along with explanations.
• See Ben's Guide to U.S. Government for Students.
The First Amendment
The First Amendment to the Constitution does not include the phrase "separation of church and state." Nowhere does it suggest that Christianity cannot be heard in the public square.
In fact, the first act of the United States Congress was to authorize the printing of 20,000 Bibles for the Indians. Read more.
Judicial Interpretation of the Constitution
The subject of constitutional interpretation is a valid and practical concern today that will reach into many areas of our lives for years to come.
Two competing viewpoints have emerged:
1. To follow the original intent of the Constitution.
2. To allow judges to interpret the Constitution as they will.
• Read "A Tale of Two Constitutions" by David Barton as well as a variety of articles from Wall Builders on the moral, religious, and constitutional foundation on which America was built.
• Read "What Can We Do About Judicial Activism?"
Free Online Lessons
The Center for Civic Education offers free lessons for Constitution Day and Citizenship Day.
These are beautifully produced pdf files with illustrated stories, questions, worksheets, activities, and teacher's guides. You may download and print them. Audio guides are also available.
• Kindergarten - study of authority. (30 pages)
• Level 1-2 - study of authority. (34 pages)
• Level 3-4 - Preamble to the Constitution. (10 pages)
• Level 5-6 - Preamble to the Constitution. (12 pages)
• Level 7-8 - the federal system of government. (12 pages)
• Level 9-10 - the Constitution as a framework for the government. (14 pages)
• Level 11-12 - involves students in critical thinking exercises involving fundamental principles of the Constitution. (17 pages)
Give Your Children
an Excellent Art Education
with How Great Thou Art
Choose from 14 curriculums that teach students of all ages the fundamentals of drawing, painting, color theory, and art appreciation. Written by Christian artist and art instructor Barry Stebbing.
See quality supplies, art gallery, sample lessons, and class schedules at www.HowGreatThouArt.com.
3. Studying Our Government
The Teaching Home Newsletters #66-68 (which you can read online or print for personal use) addressed the topic of teaching your children about governments in general and the United States government in particular.
This series offers much practical information, Internet links for further study, and application for Christians. It would make an excellent study for Constitution Week.
Following is an outline of what each issue contains.
Newsletter #66
: Introduction to Government
1. What and How To Teach
2. The Biblical Basis of Government
3. Forms of Government
Newsletter #67
: United States Government
1. We are a Republic, not a Democracy
2. The Constitution
3. The Three Branches of Government; Checks and Balances
4. Distribution of Government Powers
5. How a Bill Becomes a Law
6. Our Heritage of Freedom; Our Christian Heritage
Newsletter #68
: Our Responsibilities in Government
1. The Spiritual Aspect of Political Action
2. Political Action
3. Guidelines for Any Lobbying Effort
AVKO (Audio, Visual, Kinesthetic, and Oral)
Offers a Multi-Sensory Approach
to Language Arts through Phonics
and Word Families.
• Individualized Keyboarding teaches reading and spelling skills as your child masters the keyboard.
• Let's Write Right teaches reading/spelling as the alphabet is learned.
• Sequential Spelling builds self-esteem.
• To Teach a Dyslexic is the readable and enjoyable autobiography of Don McCabe, a dyslexic who has become a widely recognized expert on dyslexia and head of AVKO.
To try it before you buy it, or for information on dyslexia, visit our website. Complimentary samples and downloads. www.spelling.org / 1-866-285-612


4. Biblical Principles: Basis for America's Laws
Excerpted and reprinted by permission from an article by Charles and Cindy Meek, Faith Facts.
Christians believe that the Bible offers ultimate, objective, and absolute truth. There was a general consensus on this point in America from the earliest settlers until only very recently.
Thus it was natural for the early Americans to turn to the Bible for guidance as to how to make civil law. This was the standard for law beginning with the Mayflower Compact all the way through the constitutions of all 50 states.
State Constitutions
For example, the first state constitution was the Fundamental Orders of Connecticut (1639). Read this document.
The framers of this document desired that every aspect of it be based on the Bible. This document was a model for other constitutions including the U.S. Constitution which followed it. (See other Preambles to State Constitutions.)
Rule of Law
Another aspect of our system of government is that it is based on the Rule of Law. This concept is a direct descendant of Hebrew law and the Ten Commandments.
Together with the concept of inalienable rights from God, these concepts helped ensure a way of life that respected the dignity of every individual.
The True Nature of Man
Another important aspect of America's constitution is that it has as its basis the distinctly Christian idea that man is basically sinful. Every one of our founding fathers understood this truth. The result was that the founders built into the Constitution an elaborate system of checks and balances.
This is evident in the horizontal plane of executive, legislative, and judicial branches of government. It is also evident in the vertical plane of federalism - states' powers versus federal powers.
See a chart of the influence of Biblical thought on America's legal system with Bible references.
5. Resources
Constitution Day Package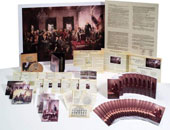 • "A More Perfect Union," DVD, depicting the Federal Convention of 1787 ( See a preview online).
• Beautiful reproductions of the U.S. Constitution and the painting depicting the Convention
• 30 student booklets including the founding documents plus quotes;
• A miniature version of the 24-image Freedom Gallery.
$49.95 (reg. $140) 1-877-917-1787. Roots of Freedom
Civics Education Courses
From Home School Legal Defense Association. Includes: Founding Fathers, Introduction to Constitutional Law, The Federalist Papers, Declaration of Independence, and more.
The Federalist Papers Online
One of the most important works on political theory ever written.
America's Godly Heritage
Video clearly sets forth the beliefs of many of the famous Founding Fathers concerning the proper role of Christian principles in education, in government, and in the public affairs of the nation.
A Nation Adrift
"A Chronicle of America's Providential Heritage" DVD is the true story of how God's sovereign hand guided the founders of America.
Enlightened Democracy
by Tara Ross. Understand the Constitution and the basic tenets that undergird America's republican democracy. Free Study Guide. Colonial Press
Naturalization Self Test
Could your children (or you) pass the test to become a citizen? Test your knowledge of United States History and the structure of our government on this easy-to-use online question and answer interactive site.